St. Casimir Fair 2018
Historic St. Casimir Fair took place in Vilnius again on March 2-4, 2018. Craftsmen from all over Lithuania and neighboring countries demonstrated their handmade crafts and historic fair rituals. St. Casimir Fair is the oldest fair in Vilnius which takes place in Vilnius Historic Centre – UNESCO world heritage site since 17th century.
The quality requirements and a selection of participants are becoming stricter every year.  It is important that craftsmen use traditional materials, processes and technologies, but one can find items of modern design more suitable for our day life as well.
Vilnius craftsmen – participants of Municipal Crafts Programme – took part at the opening and festive colorful procession with craftsmen' flags. The procession of craftsmen is an old cultural tradition which was revitalized 10 years before by the initiative of the craftsmen themselves and Vilnius Old Town Renewal Agency; with the help of the consultant prof. Libert Klimka.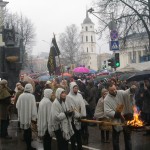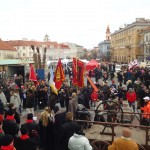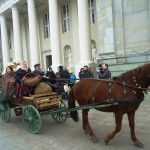 The Fair in 2008                   in 2012                                        in 2015